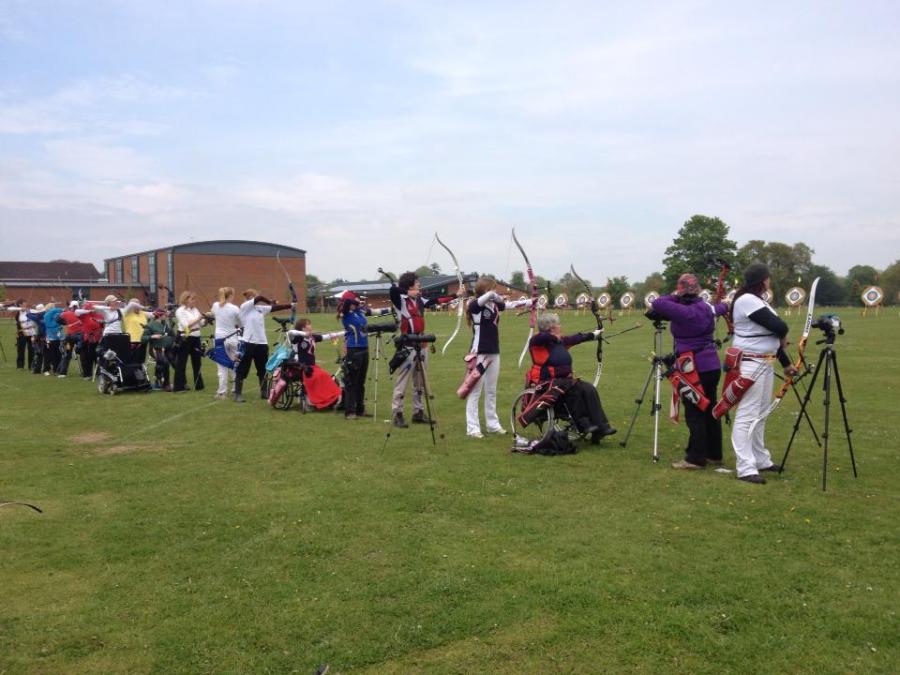 At a glance
Luis Felipe Paulinyi – 1229 – 3rd
Stephen Fawcett – 883 – 27th
Jason Hammett – 544 – 42nd
Andrew Howe – 1025 – 1st
Janna Collier – 859 – 1st
Fiona Walsh – 741 – 1st
Rachel Jones – 232 – 1st
Full results
Report
In light of the physical condition of SUAC archers at recent competitions, the team decided that they would stay sober the night before, even if it meant that the previous day's Eurovision Song Contest would be a dry affair. It was a promising sign when the whole team arrived on time at the concourse, with Andrew Howe breaking his previous streak by not even being the last to arrive for once. Things did briefly look ominous though when Stephen Fawcett received a text from him about why there wasn't a bus when there should have been one, the answer being that it was a Sunday, but fortunately Andrew now has a bike and the crisis was averted.
The team was scheduled to use Fiona Walsh's favourite safety bus, but due to a prior breakdown we were given a different minibus to use. This led to an awkward encounter with the cricket team, since we were subsequently assigned one of their minibuses. We suggested the organiser should go back to reception to figure it out, and fortunately we were in a position to make a getaway before he was able to return.
Driver for the day Jason Hammett had brought a tub of mini blueberry muffins to share with the rest of the team, but the minibus had barely left the university when Fiona 'Butterfingers' Walsh managed to drop them on the floor. The team still ate them during the day, though Jason was unsatisfied by the new "gritty" texture that they had subsequently acquired.
The minibus took the scenic route to Downton (nothing to do with Abbeys) as Stephen navigating pointed out that there should be turn-off at the end of the motorway, and if we reached the A road we'd gone too far. Reach the A31 is exactly what we did, and then there was no easy place to u-turn for ages. What had happened was that the navigator was looking for a sign that didn't exist for the B road that we were aiming for, and we were supposed to have taken a turn-off marked for a completely different road. We still arrived in plenty of time to set up though, again having had the benefit of setting off early.
The weather didn't look too bad, and was certainly not as windy as the year before, but a number of the team struggled to find their sight marks. Jason scored more points at 90m than at 70m, while Andrew's scoresheet contains a mix of relatively low and then high scores at the long distances. Rachel Jones was doing her first competition, but had been entered in that shortest of metric rounds, the Short Metric, which meant that she wasn't shooting in the morning. She would have liked to sit down in the meantime, except that Stephen forgot his chair, despite saying that he would bring it specifically for Rachel for the morning, as did Jason despite putting it next to his bow bag in his house to remember to bring it. Janna Collier did have a chair though; a child's chair with a frog design sticking out from it.
Despite not doing badly at the long distances, Stephen managed to score 50 points less than his PB at 50m, as the rain started to fall. Rachel was the only person doing the Short Metric Open, so she had her own sighters at 50m where everyone else could watch her shoot. Although there was a time limit as it was a record status competition, the accompanying judge could barely stifle a laugh as Rachel proceeded to shoot the three sighters in record time, a speed which was described as "like a barebow archer". There was relief all around when Luis Felipe Paulinyi managed to qualify for BUCS Outdoors… before the halfway point of the 50m stage.
As the only competitors in their event, Janna, Andrew, Rachel and Fiona technically all won, though they didn't receive any prizes. Rachel, possibly because she was a visitor (I have no reason otherwise), and the others because they were too old. Not in an ageist way specifically against Janna, which was her immediate conclusion, but because they were all shooting junior rounds as adults. Luis did manage to come 3rd in the visitor Gents Recurve to win a prize though. Despite the disappointment at the 50m distance, there was a PB for Stephen (woop), and there were also PBs for Janna and Fiona. In fact, this was possibly the first shoot in a long time in which Fiona left as happy as she was at the start, rather than the usual being depressed at how badly it went. Let's have more of the same at the next FITA we do, which already will be BUCS Outdoors!