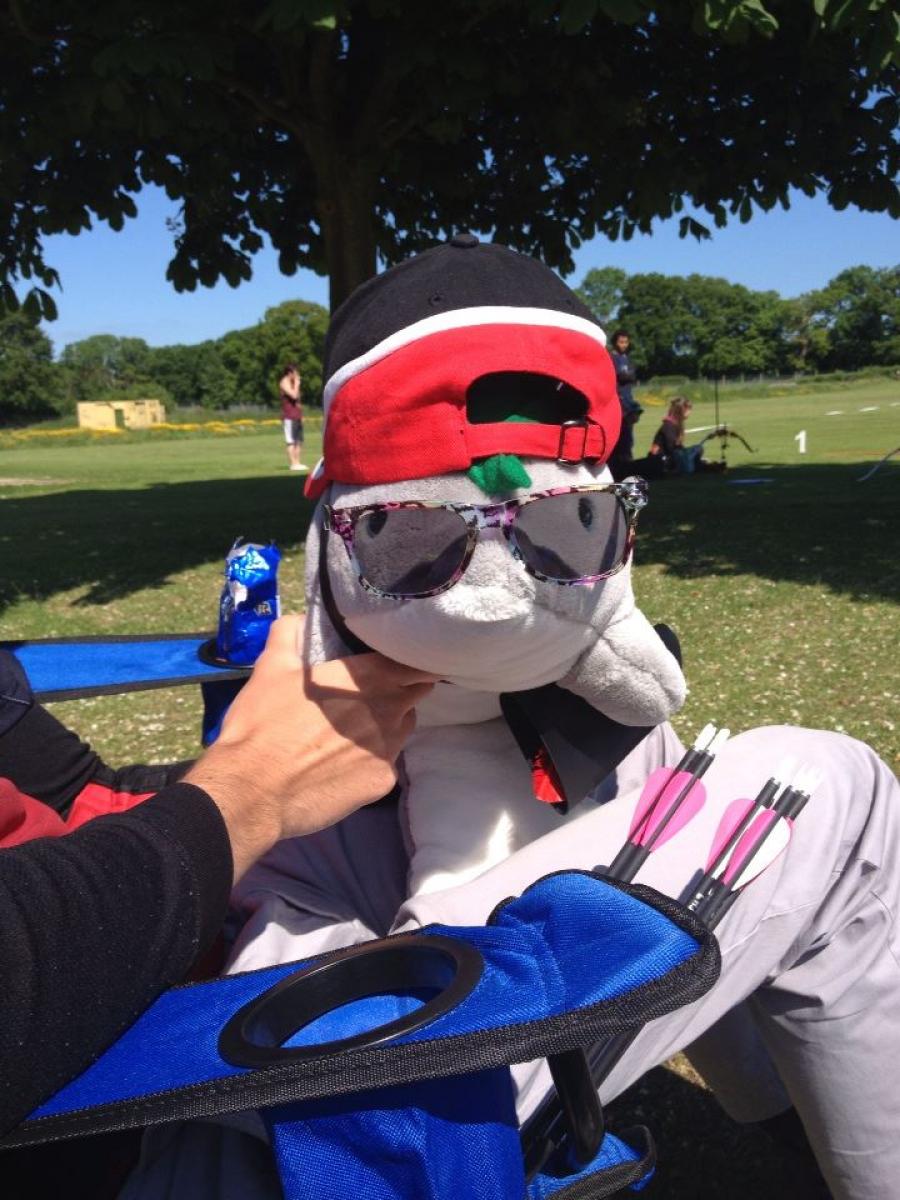 Full Results
Report
For once, this report is in the first person – since I organised the competition and it went well I will allow myself this little self-indulgence.
SEAL Outdoors was a FITA 720 round followed by a team head-to-head, and following the success of the previous year's format we kept it so that the senior gents shot 70m, senior ladies and novice gents shot 60m and novice ladies shot 50m. The FITA 70 and 60 are legitimate rounds, but the 50 technically isn't because a large face is used, so people using archery apps for scoring had to adapt by pretending it was a different round. In effect, it is the second distance you would shoot at BUCS Outdoors in order to make things fair, though Andrew Howe took umbrage with how I consistently described it as the 'third longest BUCS distance'. It was the largest SEAL event ever, with representatives from 8 of the 11 current SEAL universities and was well hosted at Arborfield Garrison, home of the new team for next year, the Defence College of Technical Training (DCTT).
I demoted myself from navigation duties following a string of poor performances, instead writing a list of directions for David Williams to take while we waited for Matt Potticary to arrive and tell us that Scarlett Theron Rush had bailed out and wasn't coming. We still had a sizable contingent of nine people though. Passing the directions on to Boris didn't stop me from being a back seat navigator, as I contrived to cause the minibus to take a wrong turning at a roundabout when my directions for Boris weren't thorough enough. With poor reception for GPS devices, we had to stop at a farm to ask for directions. However, a subsequent review of the map after the competition shows that my choice of turning would have been the correct scheduled one, had we not chosen to then do a u-turn later on that road. We ended up taking a different turning when I didn't show full commitment behind my decision and knowing where the next turning would be. Despite the delay, we just about arrived in enough time to set up everything, though since I was running the competition we probably wouldn't have been able to start before SUAC arrived.
At the security gate to the garrison, Matt Leivers managed to stop in the wrong lane, and then reacted unexpectedly to the simple question of "Where are you from?" Rather than correctly stating 'Southampton', as they were expecting us, his response was "Swindon," which is where he literally is from. This general reaction of the rest of the bus was to put their heads in their hands. It was suggested that I should follow him when he was ordered out of the driver's seat to collect the vehicle pass but I thought that I should only step in if there was a real incident!
The sun was shining, and conditions would have been beautiful for shooting except for the very strong and persistent cross wind. At least it was always in the same direction, and it actually made for a rather fun challenge to shoot through, though the people with numerous misses may choose to disagree.
James Strudwick was flitting in and out of ends, attempting to order some new arrows the week before BUCS Outdoors. When he found out from Boris that Clickers opened at 10.00, and asked if he could call them, I pointed out that this was when we were supposed to start shooting. I found myself getting tangled between the usage of the names David and 'Boris' to the various people I was talking to, though he shot as a late replacement for Luis Felipe Paulinyi, who was unable to come. I hadn't specified a dress code, so he turned up in his Hawaiian shorts to go with his SUAC top. He was surprised that I had listed him as 'Non-shooting official' as part of his security clearance, but even more surprised by how well he was shooting with his makeshift recurve bow and arrows! At one point he was beating most of the rest of the senior regularly-recurve team, which was a bit embarrassing and hilarious at the same time. Unfortunately his score dropped a little at the end to prevent him from making the team, which meant that it was almost the 'Return of the Jedi Boris'. Declan Ashworth was almost disappointed to be in the team, as he wasn't banking on Luis' withdrawal and hadn't read the admin instruction of the day's programme, since he was intending to make a string in the afternoon instead of shooting.
In terms of the individual rankings, I came 5th in the seniors (woop) with 424, and was beaten in my ongoing rivalry with Robert Cieslicki from Surrey, though we were all amused by how he managed to come 3rd without shooting a single gold. I at least made a better attempt of pronouncing his name this time around than the last time we had a SEAL match. Matt L and Declan had to be separated by hits to come 9th and 10th respectively with 326 to round off the team. James managed to eventually get six hits in an end and not come last, with a score of 102. In the novices, Andrew dominated by finishing 1st with 530, 73 points ahead of the second placed Janna Collier (representing for Portsmouth for various situations this time). SUAC's novice team was completed by Matt P (367, 5th) and Ally Miller (301, 7th). This meant Fiona Walsh (who I don't think dropped anything for once) failed in her challenge to beat Ally with a barebow, coming 10th with 273. Andrew and Janna also now hold the SEAL records for the seeding round in the FITA 60 and catchily named 50-with-a-large-face respectively.
Since the majority of the teams had not brought lunch with them (despite it being suggested that they should) the lunchtime SEAL meeting was delayed. When it eventually happened, the meeting turned out to be very productive, especially given that this was the biggest representation of participating teams that I have ever been able to coordinate in one place. I get to be SEAL Organiser for another year, though next year should hopefully be the last as I finish being a student.
We moved on to the knockout stages, which partly sounded like I made it up as we went along, mainly because I couldn't remember everything from last year, though there were enough experienced archers to point me and everyone on their teams in the right direction. We had to double check the scoresheets due to some errors in people's adding up, and due to a small technical mistake with my spreadsheet the wrong novice teams played each other in the semi-finals. Fortunately, it doesn't look as if the end result was too adversely affected. SUAC's novices justified their number 1 seeding by dominating the entire semi –final against Kent 6-0 and then also winning their final against London 6-0, with the team only really being pushed close in one set of the final. SUAC Novices are now unbeaten in SEAL competitions this season, but win absolutely nothing as there is no SEAL budget to buy a novice SEAL trophy with (and I don't think I'm buying one either).
SUAC's seniors seeded second, but our semi-final match was not as close as the 13-point seeding difference between us and Surrey might have forecasted. We shot some high scoring arrows to win fairly comfortably, 6-0. The final put us against the number 1 seeded London, and we fancied having a shot given how well the semi-final went. Unfortunately we struggled to get six hits in each set, as I missed an arrow in two of the ends, and someone else missed in another set. Despite this, we took it to four sets, managing to tie two of the ends and get narrowly beaten in a third. This meant we went down 6-2 and London completed the double of the outdoor and indoor championships, their first ever SEAL titles.
As seems to be the custom these days for SEAL Outdoors, there was a "Three cheers for the SEAL Organiser", though for the second year in a row I wasn't listening properly about who we were cheering for, and so I joined in and was effectively cheering myself again.
On the way back, the minibus managed to take another alternative route to the original plan, though this time Matt L chose to casually disregard the turn-off signposted as 'Southampton'. At the first possible opportunity to come off the motorway and return in the correct direction, the minibus found itself returning to the motorway in exactly the same direction as before, though the roundabout was admittedly a bit confusing. With the entire bus in uproar and the driver about to react unpredictably, fortunately a suitable turning was found, but not before the bus had gone a significant distance towards London.
There is one competition left in this (term-time) season, and rather than working out how to get us there in one piece and on time, for once all I have to think about is shooting properly and writing a suitably sized report for it!
-Stephen Fawcett