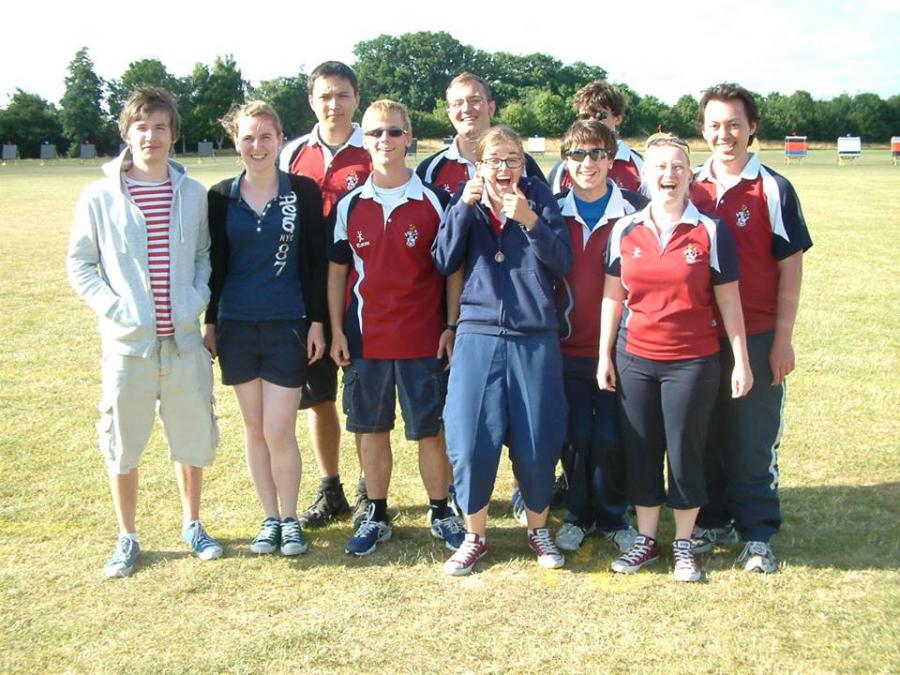 At a glance
Ruth Walton – 902 – 2nd
Janna Collier – 809 – 4th
Rachael Evans – 687 – 5th
Simon King – 903 – 12th
Theo Chen-Sverre – 843 – 15th
Stephen Fawcett – 830 – 16th
David Williams – 714 – 18th
James Strudwick – 709 – 19th
Matt Potticary – 689 – 20th
Matt Leivers – 199 (retired)
Full results
Report
A record number of SUAC people turned up for a summer competition for the Saturday FITA of the Sussex County Championships, except that it wasn't the actual championships (which took place on the following day) and SUAC aren't based in Sussex. However, it was held in James 'Frodo' Strudwick's home town, it was a record status shoot, and it was an opportunity for novices to shoot a senior round for the first time, so there were plenty of incentives to take part for.
There were two groups, those that were staying with Frodo and those making their way from Southampton. There was also a mysterious appearance from David 'Boris' Williams travelling by himself from London, but nobody that didn't already know this was happening seemed to either be aware of this or really care. He did manage to arrive very early though, at one point threatening to do so before the organisers did!
Matt Potticary was determined to not have yet another equipment failure, so he instead contrived to fail at many other things – the journey got off to a great start when we had to stop off to collect his GNAS card that he had forgotten (despite all the messages saying that it would be necessary to bring along). The Southampton crew were superbly navigated and didn't get lost once, though it admittedly wasn't exactly the most difficult of routes. Fiona Walsh, who couldn't make this competition, still sent everyone messages of good luck, though some people got their messages some time before others did… there was some bad signal…
The conditions looked fine but were deceptively tough due to a swirling wind. Rachael Evans, shooting under the SUAC banner, looked suitably prepared with her chunky aluminium arrows and feather fletches. Boris was also going for the aluminium arrow route in his recurve guise. There was some mirth about whether we were shooting under FITA or GNAS rules, the workaround being that we would have practice rather than sighters, but we would only have one end of this.
After the first two distances, some of us were faring well, while others weren't so much. Matt Leivers decided to retire and just practice shooting instead, Stephen Fawcett had to aim off the boss and was down by about 70 points from his usual 90m score, and Matt P had managed to put a dent in one of his arrows, struggling to aim for the long distances. However, the female contingent was doing well, Ruth Walton again having a strong start, leading all SUACers by one point from Simon King, and Janna Collier well on the way to a 2nd class score.
As it had been a while since some of us had seen each other, there was a lot of catching up to do over lunchtime. However, there were a couple of awkward silent moments when certain stories that were meant to be kept quiet were inadvertently brought up… though normality resumed when talk descended into the matter of garlic breath and threesomes. Fortunately, this didn't seem to be picked up by the SUAC parents gathering that had turned up to support their archers and see what they were spending all their free time doing.
For a shoot that was only a single detail, it took longer than expected, partly because they were enforcing the full 20 seconds to step up to the line before shooting. The fast turnaround meant that despite finally remembering to bring his chair, Stephen didn't get much use out of it. He did have an equipment failure though as his sight block tried to rattle itself loose of the riser. Janna shocked the people around her by hoping that it would be another Matt P failure, being the kind person that we all know she is. Janna was still getting close to Stephen's score, without ever quite managing to overtake him. However, her final score beat that of Jamie Parkin's from BUCS Outdoors. While
Janna was quick to celebrate this moral victory, Jamie was rather more apathetic, content with replying that he was in the airport about to go on holiday.
Janna still finished with 809, which is a novice record for the full FITA and would comfortably qualify her for next year's BUCS outdoors. Matt P also technically has the male novice record (since Andrew Howe hasn't been shooting with us recently) [no he hasn't, I shot 945 at the Surrey county champs, muahahahahaha – Andrew] but just fell short of the 2nd class score with 689. Also falling just short were Frodo and Boris; Boris by only two points. Despite the bad start, Stephen (woop) managed to get 830 and now has enough scores to get a national ranking (probably somewhere near the bottom) and finished one place behind Theo Chen-Sverre. At the top of the table, Ruth just missed out on being the leading SUAC archer as Simon reversed the deficit to beat her by one point. Ruth still got herself a score over 900 to win the silver medal in the female recurve category, and can claim an English Cross for her efforts. Possibly not for the first time this season, SUAC in the form of Simon and Ruth were strangely denied a team medal as they didn't appear to be giving them out to visitors on the Saturday, despite them doing so the next day.
SUAC didn't win any raffle prizes this time, though it was probably the shortest raffle ever with only two prizes, both being archery vouchers. At one point Matt P considered buying multiple tickets, before it was pointed out to him that the total value of the vouchers would be outweighed by how much he spent on the raffle tickets!
There was just enough time for a team photo (that should be with this report, Frodo…) before it was time to say goodbye to each other again, though there was time for one more awkward moment as Janna didn't hear one of the ladies from her target try to say bye to her repeatedly, as Janna walked past her obliviously. We did eventually get Janna's attention to avert the situation and actually say 'bye' back…
Boris left with the Frodo camp where he apparently suffered some collateral damage to his sight, while not much can be remembered from the car trip back to Southampton as it presented an opportunity to catch up on some much needed sleep!