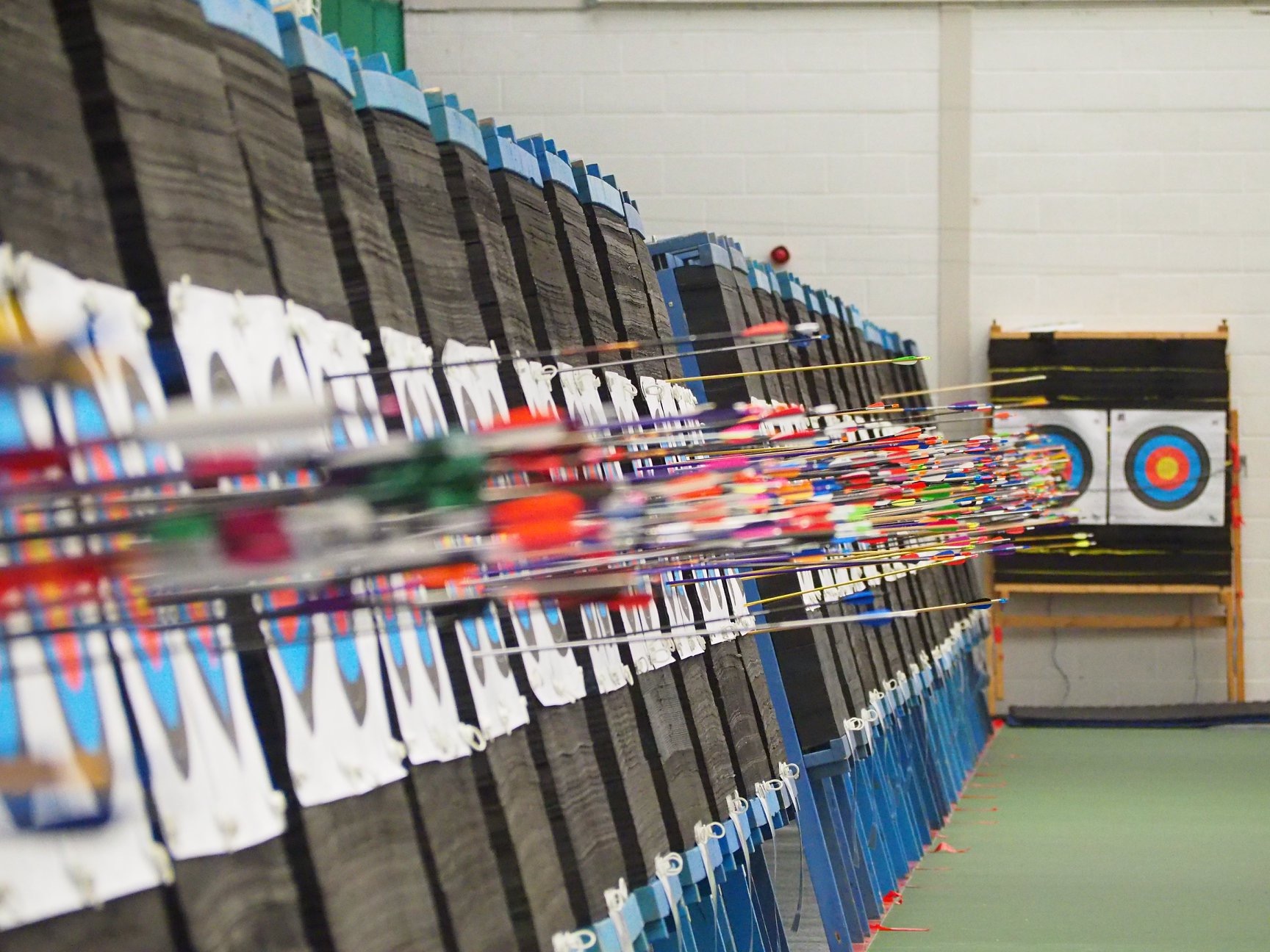 It was finally here! The indoor comp everyone had been waiting for (I think). This year, SUAC took a huge team to BUCS, so much so that we almost had a person on every boss (see all the red shirts in the photo at the top of the page). The SUAC army met at an early 4:45 am to load up a minibus and 2 death-traps. The minibus led the way, followed by the death-traps, from here on referred to as the jelly bus and the porridge bus. A windy drive to Bristol and SUAC stumbled into the Sports Centre, obviously the first to arrive as we like to be.
A brief wait before registration and set up, where SUAC began to feel right at home in a slightly dim and chilly sports hall before completing the pre-BUCS ritual of a Gary warm-up to an impressive audience. Assembly came and went, and so shooting begun. It was an uneventful shoot from a SUAC perspective, though a few people did get stuck to the 3m line (*cough* Stuart *cough*). Amazingly, despite having 30 archers competing, SUAC managed to go a whole competition without any equipment failures, so the support team were left to amuse themselves by taking photos and chilling on the balcony. The shoot finished on time (I know, something's not right here) and SUAC packed up and decided what they were going to do for the next six hours. A few groups ended up in the pub (surprise!), one group went to Wales archery and some people ended up sightseeing or in the aquarium.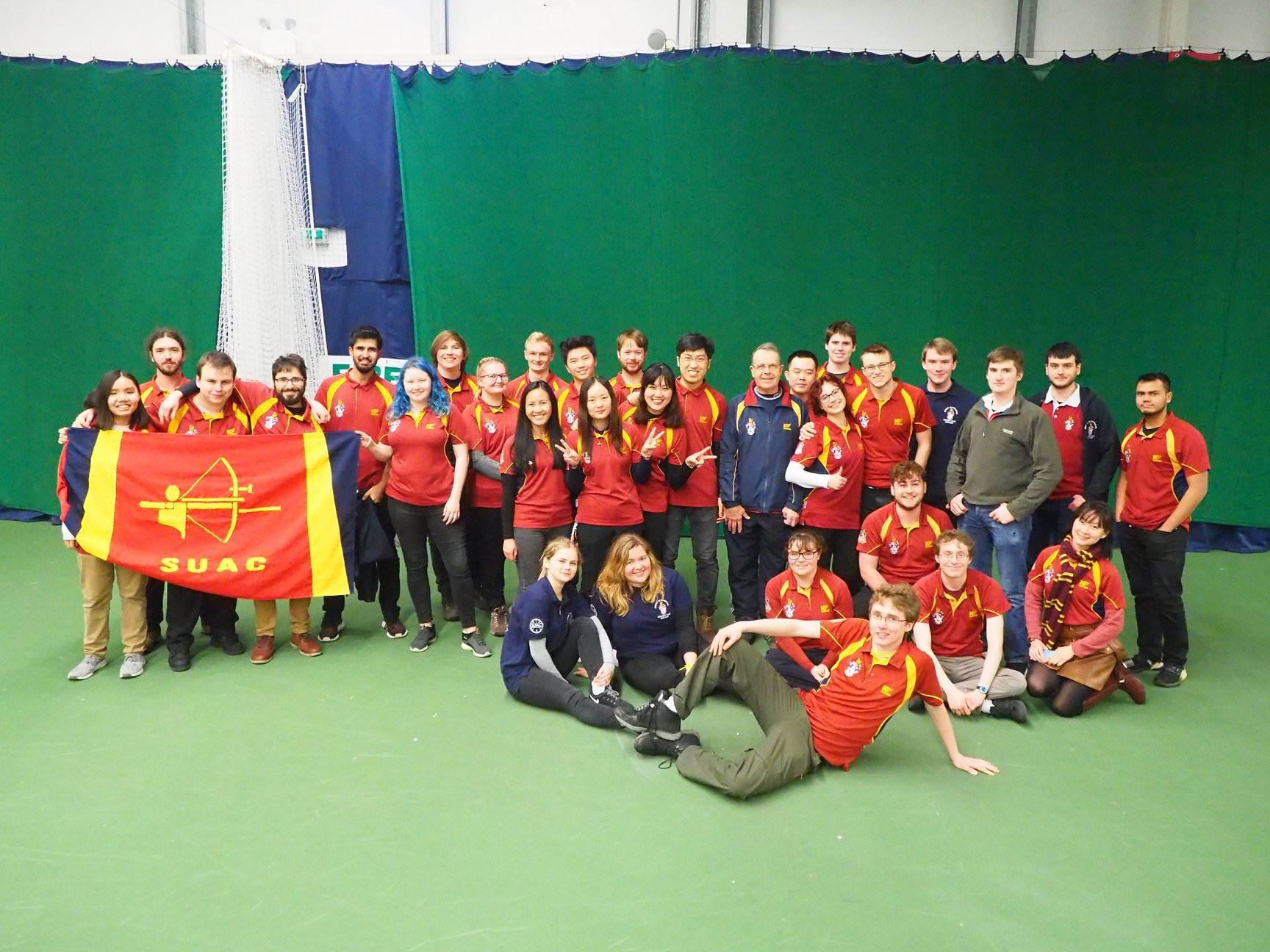 As SUAC reassembled at the Sports Centre, it became clear that normal service had resumed as the third session was running very late (you were getting worried there weren't you?). After a brief *ahem* exchange with Queen Mary and the flag (or hoodie?), SUAC were wrangled into helping clear up all the mess as the results were calculated. We had some great novice results this year, with the novices taking the 1st and 3rd place ladies recurve, and the 3rd place team positions on the podium. After a brief tumble (*cough* Stuart *cough*), used target faces were claimed and SUAC began the slow process of moving everyone towards the door.
It was at this point that a certain novice realised his keys were missing, and so began the search. They were nowhere to be found, until a lucky call to a restaurant who had found them. So, the jelly bus was loaded up and headed towards Bristol city centre (what could possibly go wrong here?). In what could only be described as a scene out of an action movie, we ditched (I mean, dropped off) said novice at a set of traffic lights, and the bus unknowingly entered a one-way system before finding out that the lost novice's phone was close to death. Some interesting hill starts later (the brakes are meant to smell like that, right?), contact was made and novice plus keys collected.
Despite having spent half an hour driving around Bristol, the jelly minibus caught up to the porridge minibus at the services, and then promptly overtook them to arrive back in Southampton first. All in all, a good day was had by everyone (except maybe the drivers…) with the general consensus that 'Holding Out For a Hero' is great in its many, many forms.
Full results can be found here
Gallery
Photo credit to Alicja Sep and Malcolm Rees